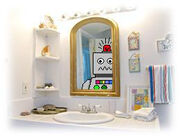 "COMMUNIST ORGANO SPELL CHIK FIL A WRONG. GHIGHATRON APPRECIATE IRONY.

GHIGHATRON WANT ORGANO FIL A NOW"
Ghighatron was one of many users who joined  the new sprite wars site in the first few years and dissapeared shortly after. Unlike most of them, however, Ghighatron stopped appearing because he was banned.
First time
Edit
"Name: GHIGHATRON Gender: IRRELEVANT Age: AGE NOT NUMBER. AGE STATE OF MIND. Five Bands you like: CAMPER VAN BEETHOVEN, GUIDED BY VOICES, PAVEMENT, SUPERCHUNK, WEEN Favorite movie: NEXT QUESTION. Favorite book: WHAT, ORGANO CONSTRUCTING CHRISTMAS SHOPPING LIST? Skills/hobbies: DESTRUCTING Skills/hobbies you wish you had: GHIGHATRON NOT WISH. WHEN GHIGHATRON WANT SKILL, GHIGHATRON HAVE SKILL. Last CD you bought: THE GOOD, THE BAD, & THE QUEEN Was it good? GHIGHATRON NOT BUY BAD ALBUMS."
Ghighatron joined sprite wars on June 5th of 2008. What made him stand out was that the user behind ghighatron incessantly roleplayed as a robot that reffered to himself in the 3rd-person, typed with all caps,and called everyone else "Organos".  Just
one and a half hours after he had joined and posted in several threads, though, Ghighatron had outstayed his welcome and was banned by Player1.
2nd time:Daedalus
Edit
Exactly one month later, in august, a user named Daedalus joined sprite wars. This was an obvious Ghigatron sock-puppet, he posted in the 3rd person (But not in all caps). Though he said he was not Ghighatron after being accused, before that he said that he was "impressed at how far this site has progressed since last cycle's observation."  He lasted 6 hours before being banned.
"F*** off Ghihgatron."
-Player1

Upon further research, one will quickly uncover that this was just one of many times from 2007 to 2013 that a user named "Ghighatron" joined sites and posted his particular brand of insanity.
"GHIGHATRON APPROVE ALL SCI-SCI ORGANO-FLICKS WITH SINGULAR EXCEPTION: ORGANO-FLICK "TRON" A DISGRACE TO TRON CULTURE. NOW, "TRON" ORGANO-VIDEOGAME SOMETHING ELSE ENTIRELY."
-One of Ghighatron's posts on Mountain-goats.com.
Dan was possibly the only sprite wars user who didn't find Ghighatron's presence annoying.
It is both ironic and saddening that many internet users wound up deleting all their stuff, but 6 years after the fact, Ghighatron's images have yet to be deleted from the sites they were posted on.